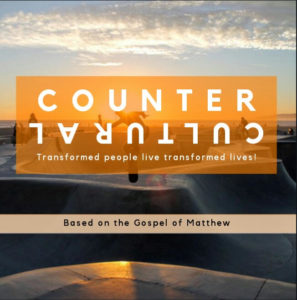 In the series we are looking how Jesus challenges us to live differently. Jesus calls to love Him and love others in a radical way. We will live as those who have been transformed, because we have been transformed by Him. Transformed people live transformed lives. However, living transformed lives is done in isolation and it is not easy. It means turning away from our idols and seeking him to help us live counter culturally.
In this sermon, Pastor Humphreys talks about Matthew 5::43-48. Living counter cultural lives mean we must forgive our enemies, because God forgave us while we were still His enemy and because God is doing a good work in us and through us.
Matthew 5:43-48

Love for Enemies

43 "You have heard that it was said, 'Love your neighbor and hate your enemy.'44 But I tell you, love your enemies and pray for those who persecute you, 45 that you may be children of your Father in heaven. He causes his sun to rise on the evil and the good, and sends rain on the righteous and the unrighteous. 46 If you love those who love you, what reward will you get? Are not even the tax collectors doing that? 47 And if you greet only your own people, what are you doing more than others? Do not even pagans do that? 48 Be perfect, therefore, as your heavenly Father is perfect.