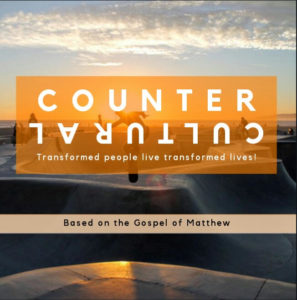 In the series we are looking how Jesus challenges us to live differently. Jesus calls to love Him and love others in a radical way. We will live as those who have been transformed, because we have been transformed by Him. Transformed people live transformed lives. However, living transformed lives is done in isolation and it is not easy. It means turning away from our idols and seeking him to help us live counter culturally.
In this sermon, Pastor Humphreys talks about Matthew 5:13-15. Living counter cultural lives mean we must be salt and light, but that means that we become invisible in bringing glory to Jesus.
Matthew 5:13-16

Salt and Light

13 "You are the salt of the earth. But if the salt loses its saltiness, how can it be made salty again? It is no longer good for anything, except to be thrown out and trampled underfoot.

14 "You are the light of the world. A town built on a hill cannot be hidden. 15 Neither do people light a lamp and put it under a bowl. Instead they put it on its stand, and it gives light to everyone in the house. 16 In the same way, let your light shine before others, that they may see your good deeds and glorify your Father in heaven.