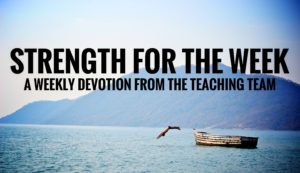 For the word of God is living and active, sharper than any two-edged sword, piercing to the division of soul and of spirit, of joints and of marrow, and discerning the thoughts and intentions of the heart.

Hebrews 4:12
Over the last 18 months that I have been married I have caught myself saying phrases and words that I never used to say but my husband says on a regular basis. Things like "boom", "let's do this" and "that is so cooool". My husband didn't explicitly teach me to say these things, he didn't tell me that I should regularly use these phrases, but I caught them from him.
We all have a realm in which we are influential, for each of us the size of this realm differs. It may be in your home, the large multi-national organisation you lead, your younger sibling, the church ministry you lead, the fans who listen to your music or the friends you hang with at school. These people are catching attitudes, behaviour and beliefs from us all the time.
God calls us all to repent of our sins and live in the light of His grace, because whether we have an audience of one or of many, how we act, what we speak and what we do everyday is powerful in how we teach, role-model and demonstrate the grace and salvation of Jesus in our lives.
Hebrews says that God has given us His word which is able to discern the thoughts and intentions of the heart. It is vital that we spend time in the word, and in prayer that God can be revealing the dark corners of sin in our lives, and bringing them to light. For it is from both these dark corners and the light that others in our realm of influence will catch our teaching.
God promises us that when we we repent and turn to Him, he will transform us to be like Him. He will do work miracles in us and through us, that the attitudes, behaviour and beliefs we demonstrate to those in our realm of influence are ones that reveal the goodness and grace of our Lord Jesus.
Written by: Kate Mkandawire